The Mission
Since 1993, more than 188 million children have received a shoebox. Last year, over 10.5 million children received a shoebox. We are asking each person to decorate a plastic shoebox and fill it for a child who would not normally receive anything at Christmas time. our contact with the organization has suggested we use plastic shoeboxes. This is a plastic container the size of a regular shoebox and can be purchased at Wal-Mart, dollar stores and Hobby Lobby. These boxes go to countries where they have heavy rains, flooding, and insect problems. The regular cardboard shoebox does not hold up in these conditions. The plastic shoebox will allow the child to keep his/her special things in it. You can decorate the plastic shoebox with Christmas paper. We will have plastic shoeboxes available after worship service in the lobby for your convenience on Sundays.
Sharing the Gospel
Each child who receives a shoebox receives a booklet telling them about Jesus from His birth through the resurrection. They will be given an opportunity to ask Jesus into their hearts. They can also choose to sign up for a 12-week discipleship program called "The Greatest Journey." Please pray for the children receiving these shoeboxes.
Join The Mission Online
If you are not comfortable going shopping in stores – or are unable to get out and go – you can choose to "Build A Shoebox" online. The cost is $25.00 and you can select items for your shoebox right on the website. The online "Build A Shoebox" includes a nice plastic red and green shoebox. Simply tap/click the graphic below (AFTER OCTOBER 1) to go directly to the site on which you can build your shoebox. Using this link will automatically add your shoebox to our church total for online shoeboxes.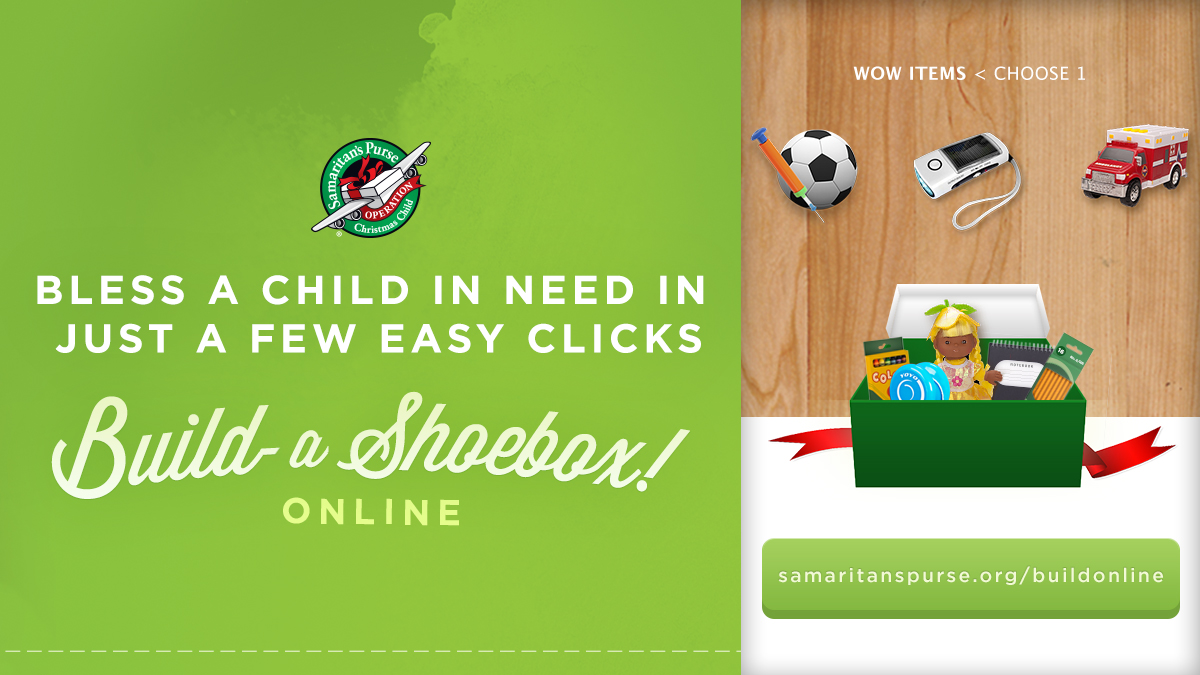 Join The Mission In Person
#1 Get A Plastic Shoebox From Us for a $1.00 donation OR purchase one at a local store. We will have shoeboxes available for a $1.00 donation during office hours AND before and after Sunday morning worship services.
#2 Choose one of the following options to pay for shipping your shoebox to it's location somewhere around the world.
Have you ever wondered where your shoebox is going? Choose option 1 to find out!
Shipping Option 1
Give online through EZ Give at samaritanspurse.org/ezgive. You will receive a label with a barcode. Put the label on the outside TOP of your shoebox and your box will be registered and tracked until it reaches its final destination. You will also receive an email notification about the destination of your shoebox.
Shipping Option 2
Place a check for $10.00 in the attached envelope. Checks are recommended (NO cash please). If your family is making more than one shoebox, then you can combine shipping costs into one check.


#3 Put the final touch on your shoebox by securing the lid in place with two rubber bands.

#4 Bring your Shoebox to the church during one of the advertised times.
Church Shoebox Collection Dates/Times
Sunday Worship Services October 16, 23, & 30: Bring your shoebox to the church lobby.
Weekdays (Mon – Thurs 8:30AM-4:30PM, Fri 8:30AM-Noon): Bring your shoebox to the church office.
Shoebox Drop-Off Center COVID Protocol
COVID-19 and Variants Protocol:
1. Unvaccinated people who are dropping off shoeboxes are being asked to wear a mask.
2. Vaccinated people may choose whether or not to wear a mask.
3. If you feel more comfortable remaining in your vehicle to drop of shoeboxes, volunteers will unload for you and bring a sanitized pen to you so you can sign the Operation Christmas Child sign-in sheet.
4. If needed, we will make additional adjustments so this can be a safe environment for everyone.
Hours For Shoebox Drop-Off Center
NOVEMBER 14-18 (Mon – Fri)
4:00PM -7:00PM
NOVEMBER 19 (Saturday)
1:00PM-4:00PM
NOVEMBER 20 (Sunday)
4:00PM-7:00PM
NOVEMBER 21 (Monday)
9:00AM-4:00PM
NOTE: If you will be bringing in a large number of shoeboxes, please call the church office to make arrangements so that we can be prepared when you arrive.
Semi-Trailer Loading Help Needed!
If you have a strong back and can lift and load heavy boxes, then we would love to have your help any of the following times:
NOVEMBER 20 (Sunday)
12:30PM -4:00PM
NOVEMBER 21 (Monday)
12:00PM-3:00PM
If you have any questions, please the church office at (207) 862-3893 OR email beckywade1231@hotmail.com. If you email, please reference OCC or Shoeboxes in the subject line in order to ensure it is safe to open your email.
Thank you for being a part of this worldwide outreach and ministry!