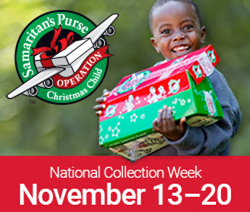 OPERATION CHRISTMAS CHILD
In 2016, 11.5 million children in 113 countries received an OCC shoebox. In the past 7 years, over 5 million children in 103 countries have prayed to accept Jesus Christ as their Lord and Savior through OCC's follow-up discipleship program,
The Greatest Journey. You can share in that gift by picking up a shoebox in the foyer. IMPORTANT CHANGES THIS YEAR – no candy or toothpaste permitted in shoeboxes and there is a $2 increase in shipping costs, totaling $9. Please bring your filled shoebox by Oct 29.