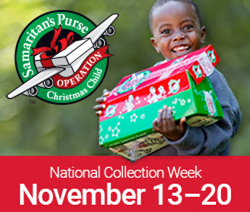 OPERATION CHRISTMAS CHILD
In 2016, 11.5 million children in 113 countries received an OCC shoebox. In the past 7 years, over 5 million children in 103 countries have prayed to accept Jesus Christ as their Lord and Savior through OCC's follow-up discipleship program,
The Greatest Journey. IMPORTANT CHANGES THIS YEAR – no candy or toothpaste permitted in shoeboxes and there is a $2 increase in shipping costs, totaling $9.
This year, in addition to being a regular relay center for shoe boxes, we are a collection center for Central Florida. We need 40 volunteers during the week of Nov 13-20 to assist with the Collection Center. High school guys and able-bodied men are needed Nov 19 and 20 to load a truck during the afternoon hours. Come to the table in the lobby to sign up THIS SUNDAY or call Becky Wade at 407-782-4547. Our collection center hours of operation are: Nov 13-17, 4-7pm; Nov 18, 1-4pm; Nov 19, 4-7pm; Nov 20, 9am-4pm