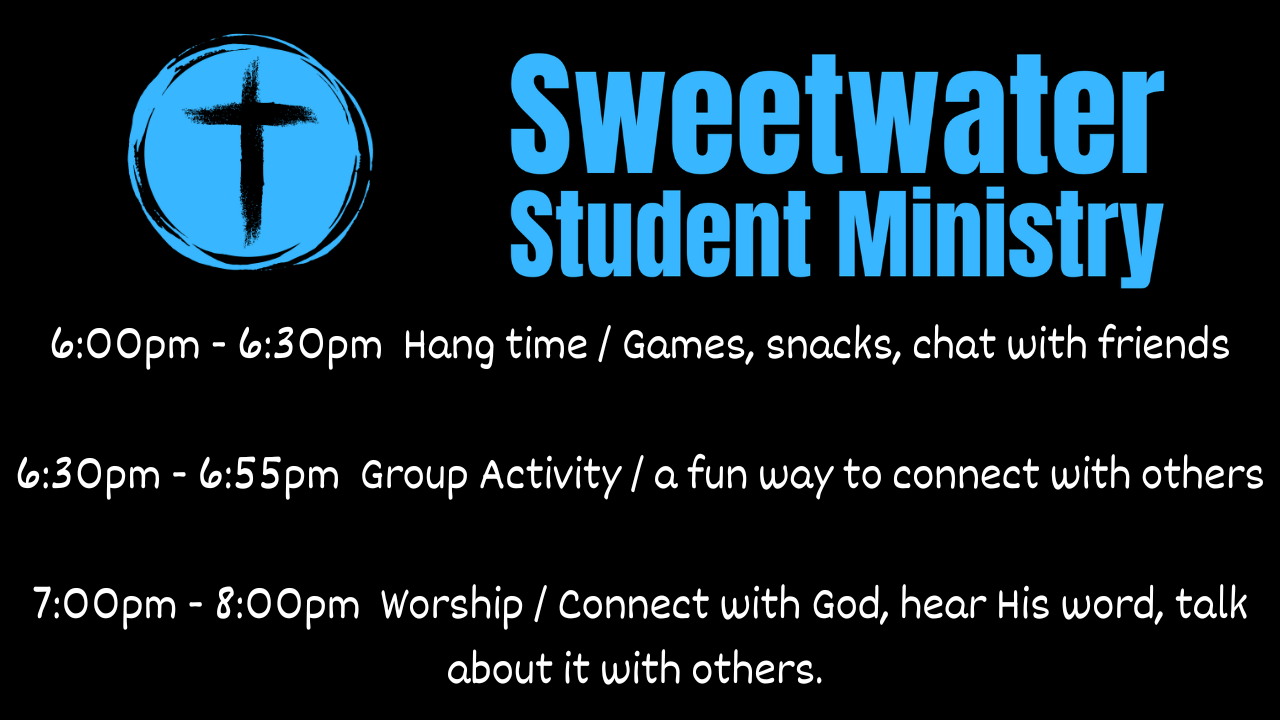 WHAT WE'RE ABOUT
Sweetwater Student ministry is committed to helping students meet Jesus (John 14: 6), grow in a personal relationship with Him (Luke 9: 23), and go forward in life on mission for Him while trusting Him with all the details (John 20: 21).
YOU ARE WELCOME HERE
We always have room for another middle or high school student! Come hang out with us. Either blend in quietly or jump in on the discussions and fun. We strive to be a friendly place for you to meet and get to know Jesus and others.
WHERE TO FIND US
Sweetwater Student Ministry meets on the South Campus of Sweetwater (across the lawn from McDonald's). Our student center is equipped with a worship center, game room, cafe area, and other inviting spaces for sitting around chatting with friends.

SAFETY FIRST
All adult volunteer youth workers are background-checked, trained, and fully committed to serving in our student ministry.
*See above for Summer Schedule (May 24 – August 9, 2023)

STUDENT WORSHIP ON WEDNESDAYS (August 16 – May 18)

6:00PM – 6:55PM Games, snacks, chat with friends
7:00PM – 8:00PM Worship
First Baptist Sweetwater SOUTH Campus
3801 Wekiva Springs Rd
Longwood, FL 32779
(next to McDonalds)
STUDENT BIBLE STUDY GROUPS (year-round)
9:00AM – 10:00AM
First Baptist Sweetwater NORTH Campus
3800 Wekiva Springs Rd
Longwood, FL 32779


THE MAIN ANNUAL EVENTS
Winter One Day (worship, small-groups, prayer stations, laser tag, chicken nuggets & more)
Summer Mission/Camp Trips (one for high schoolers, one for all ages of students)
Summer One Day (mission project, worship, prayer stations, laser tag)
"POP-UP" EVENTS
Throughout the year random activities "pop up" like popcorn. These could be a movie, a theme park, a beach day, or anything else local in adventure-filled central Florida!