First Baptist Sweetwater provides many opportunities for women to become acquainted with other women and to support efforts to disciple and equip women as Christians, to facilitate prayer, mission action, fellowship, encouragement and general spiritual growth. Some of the opportunities are listed below.
Women on Mission
Psalm 118:248 "This is the day the Lord has made…Let us rejoice and be glad in it."
Winter of 2019 Women's Bible Studies
Precept Study of Acts Part 2 by Kay Arthur – facilitated by Melody Ringenberg – begins Monday, January 14th @ 10:00am

"Living Loved" – facilitated by Cheryl Adams – begins Thursday, September 13 @ 9:30am

"We Saved You a Seat" – facilitated by Angela Naughton & Suzanne Shattler – begins Monday, January 14 @ 6:00pm (

meeting at the church with child care onsite. Please call the church office if childcare is requested.)

Managing Your Emotions, Wed, Jan 16 @ 6:30pm on the South Campus. Contact the church office for more info.

PUP Galatians – Who Has Bewitched You? Why and How? (

Spring 2019 — April-8th thru May 20th Mondays 10 AM-12:30PM)
As t
he gospel spread across the Roman world in the first decades after Jesus' earthly ministry, conflict
arose. Jews and Gentiles were believing the gospel, and a struggle over what it meant to be a Christian began. What does it mean to live under grace? Do you have to keep the Law to be a Christian? All of it or just part of it? Who is right? How will we know?
God used an apostle to write a letter to some churches that were struggling with this issue, a letter that still speaks today
. Its message clearly defines the relationship between Law and grace, and how Christians live under grace, l
ed by
the Spirit, free from bondage.
7 lessons/no intro class – pick up workbook on April 1 (or order one yourself) workbook approx. $18 (no childcare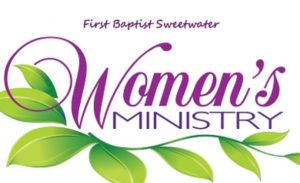 Team members:
Cheryl Adams
If you would like to use your abilities to serve God through the Women's Ministry at Sweetwater please contact one of the team members listed above. Areas you might be able to contribute include:
Decorations ◊ Food ◊ Publicity ◊ Program ◊ Music & worship ◊ Retreat registration ◊ Where needed
Your specific gifts and talents ◊ Or would you like to serve on WMAT (Women's Ministry Action Team)?