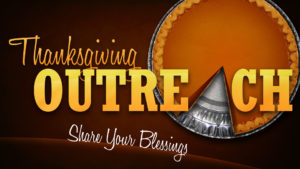 Help local families have a better Thanksgiving by donating funds for turkeys and/or donating items for Thanksgiving baskets. Items may be brought to the Adult Education Building Collection Boxes through Wednesday, November 17.
Loaves & Fishes Share-A-Basket
Sunday – November 14 – This is the last day to bring funds for turkeys. Put them in the envelope provided, in the jar at the Welcome Desk in the foyer or you can give online at www.fbsweetwater.org under "Thanksgiving Turkeys".
Items Needed: 1 box of Stovetop Stuffing, 3 cans vegetables, 1 box of potatoes, 2 canned fruits, 1 can cranberry sauce and a jar of peanut butter. These items make up a complete basket, or you can pick any of the items listed.
Through November 17 – Place non-perishable items in collection boxes in Adult Education Building (ANGELS area) or children's building.
WE NEED A LOT OF NON-PERISHABLE ITEMS FOR THE BASKETS.