SuperSummerSinginFunner (SSSF)
Children's Music Day Camp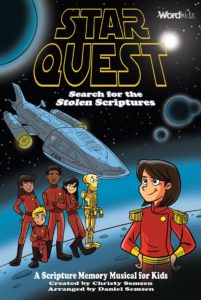 June 19-25, 2017
Ages: Completed kindergarten – 5th grade.
Cost $115 for first child & $110 for each additional child if registered by May 21;
after that date $130/$125.
STAR QUEST, Where the Bible Comes to Life. A
script and songs delivering a musical full of faster-than-the-speed-of-light-fun and an out-of-this-world, Biblically-based message. The crew of spaceship J-316 is on a mission: trekking through the galaxy, bringing the Word of God to people everywhere!
Auditions are complete. Click here to see the final cast list.