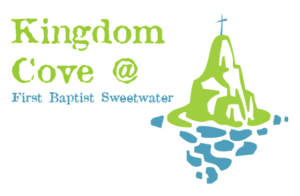 Welcome to the Preschool and Children's Ministries at First Baptist Sweetwater! Our Sweetwater family loves children and is committed to meeting their needs as they grow to know Christ. The Preschool and Children's Ministry is comprised of children from the cradle through fifth grade and has 3 primary goals:
Ground children in God's Word through Bible study & hands-on activities

Provide a safe and secure environment for families

Train volunteers to minister to the parents of the childre

n
SUNDAY SCHOOL
Age group Bible Study for kids is located in the C – Children's Building (Kingdom Cove) and begins each Sunday morning at 9:00am Using age-appropriate, Christ-centered curriculum, children have fun while learning God's Word and make friends in this small group setting. Children are placed in classes according to their age on September 1 and are promoted annually. Preschool classrooms are located on the first floor and K-5 meet on the second floor.
KINGDOM KIDS
At Sweetwater, we give parents the opportunity to teach their children how to worship and we provide age appropriate Bible teaching for Kindergarten – 3rd grade children at Kingdom Kids Children's Church. During the worship service parents are encouraged to lead children to participate in all elements of worship – singing, greeting, praying, giving, etc. Before the pastor begins his teaching, our Kingdom Kids are escorted to our Children's Church space on the second floor of the C building. Children are returned to the Worship Center to reunite with families before the close of the service.
AWANA
AWANA is an international, non-denominational program whose goal is to reach children with the gospel of Christ and train them to serve Him. AWANA builds solid Bible skills in a club environment through Scripture memorization, large group Bible teaching, and an exciting game format. AWANA Club meets from 7-8pm on Wednesday nights during the school year and sign-in is located at the back of Kingdom Cove (Children's Building). AWANA Club is for children that are 3 years old by September 1 through 5th Grade.
CHILDREN'S CHOIR
Children's Choir is a fun hour of singing and activities that will give your child the opportunity to learn a variety of musical concepts while praising the Lord through song. The children learn appropriate musical skills using instruments, movement, and singing. They also learn scripture through praise music and songs. They memorize old and new hymns all year long to help them participate in worship and gradually learn to lead in worship. They offer musical worship leadership for selected Sunday services, Christmas, and lead in the May end of the rear Sing and Share Service. Choir meets from 6-7pm on Wednesdays in the Children's Building. Choir is for children that are in kindergarten through 5th grade.
CHILDREN'S MUSIC DAY CAMP (SuperSummerSinginFunner)
Our Annual Children's Music Day Camp for children who COMPLETED KINDERGARTEN-FIFTH GRADE. Children enjoy a week of musical rehearsals, recreation, skating, talent show, water day, and trip to Fun Spot. The week culminates with a performance of a musical on Sunday at 6pm. CLICK HERE for more information.